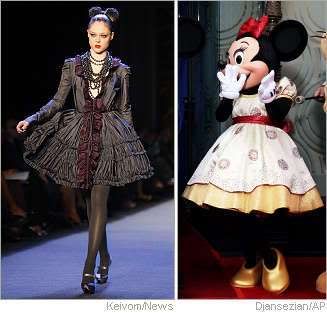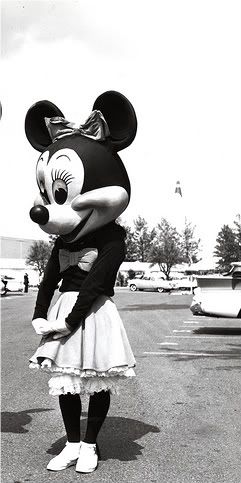 My last mention of minnie mouse got me thinking. She's inspired fashion A LOT in the recent few seasons so i thought i'd take a look at who she's inspired. Even as lately as A/W'10 with Sonia Rykiel's giant pom poms on the top of the head and Celine's gigantic bow shoes the oversized elements to her look seem to be a big hit in the fashion world. I like looking at collections and thinking about strange things that may have influenced them. The Sonia Rykiel pompom outfit complete with big suit reminds me of just that. The big suit. I went to see stop making sense at the fact in liverpool two nights ago and it seems to be a prominent inspiration, yet again, with the suits trend. The big suit has already inspired a lot of designers such as Viktor and Rolf in the past as Byrne's visual art background is injected into his on stage wardrobe as he messes with perception and construction.
But back to minnie mouse.
I've put together quite a few outfits massively inspired by her lately with the key pieces: spotty bow, red, black and white and oversized adornments of all kinds. I think she has a definite 1950's sex appeal about her and i think that was something that a lot of designers tapped into this season. From Prada's waist cinching, calf skimming sillhouettes-Minnie's mentality was everywhere. I'm quite fascinated to see this after all this time because i've been inspired by her lately and didn't even realise that it's probably these subtle staple parts of her wardrobe and stature that have seeped into the fashion world that's tapped into my conscience.