These are pants that are very unflattering for most. But to those who's skinny pins they grace they are absolutely beautiful and whereas most people who experienced them the first time round will cringe at these ankle skimming beauties i will be embracing them come winter. Cold ankles will be a popular complaint in my household as I'm thinking these with opaque/thin socks poking out of the bottom.
Or perhaps i'll go Prada hole hog and don some chunky arron ones to warm them.
My favourite creators of these were:
Isabel Marant.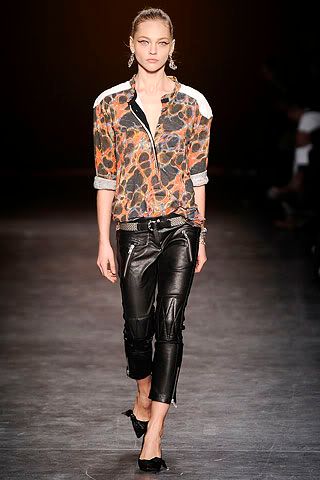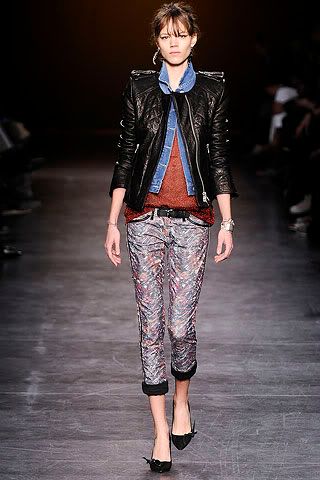 The sheer 80's vibe of these two images alone is staggering but completely to die for at the same time. The zig zags on the knees gives a nod to the fashion mantra this season-less is more and the key is in the detailing. I love the colours as well. I have a vintage jaeger jumper that i got from a charity shop in shrewsbury that is this acid orange exactly and if i didn't already love it, this being the same colour has made me even more proud to don it.
The splash effect is very reminiscent of the previously mentioned art trend of 2008 S/S. There's also a sense of flame about the top and this goes with the entire ensemble. Sasha looks hot!

Celine: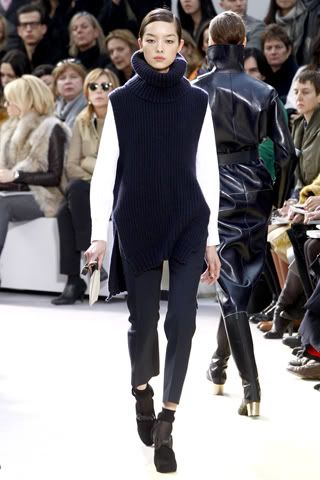 The tiny ankles in black opaque socks looks so dainty and beautiful poking out of the bottom of Pheobe's stunning version. They're sleek and black and the perfect staple item. Where they may be accused of being too simple they're merely minimalistic to match everything and to work toward that every-so-A/W clean, cut womanly look.
I also loved the shoes. The huge bow as a nod to old school femininity and the hugeness of them really had a minnie mouse vibe, (who incidently has inspired my wardrobe rather a lot lately).