Okay so i've neglected my blog COMPLETELY at the moment and i've severely missed it. But it's all going to be okay in the end - at least it will by march when i will be attempting to save enough to buy ANYTHING for s/s11.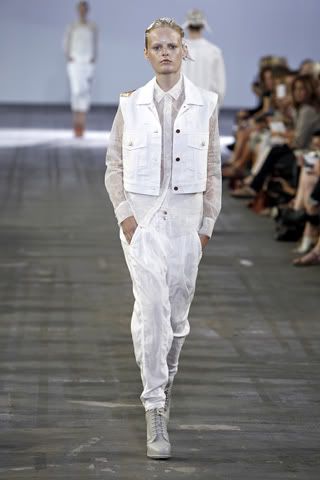 Okay so once again i'm back to Alexander Wang. I just can't get enough of the new york grunge that he so effortlessly emulates.
In an interview shortly after the show he said; "Notice anything? NO BLACK!" which is of course one's first reaction. Watching these powerful, pure, angelic women strut down the runway there's something not quite right but you can't put your finger on it. Then the white hits you. There's no sludge shades and there's certainly no black. Except for the odd flash of gold and grey there isn't a colour in sight. But why? When challenged with this very question he himself used the word purity. There's a beautiful juxtaposition between the angelic crispness of the white and the military feel to it. His women are always so powerful and there's such a blast of presence when those wang girls walk creating a deep lust for the garments in anybody watching. The crispness emphasises the sharp angles and the starch structure. Watch out for Wang because you will undoubtedly want to be one of his sexy angels.