This is something i become every season as i decide which look i'm going to adopt or plural, because most of the time, of course, i'm in love with more than one collection/style/characer.
Last summer i wore maxi tee dresses with a leather gilet over strapped and buckled sandals and, when my feet could bear it, boots with a variety of patterned socks. I went super girly as well with layers of florals, chiffons and light and pretty colours. I liked the summer me however i feel that this summer grunge is coming back with a jumble sale beautiful twist.
This time round, whilst still remaining feminine, things are going a little edgier for summer fashion and I.
My attention was drawn to junya watanabe and kenzo and J.W Anderson layering and the boat feel was beautiful at watanabe. Combining this with the print inspirations from kenzo and i've got myself a look.
To coin a summary i suppose i'll be a nautical aztec traveller who hangs our with kurt cobain and rides on a boat sipping whisky and listening to the pixies. It's a good look in my mind and fingers crossed it'll be one that works out and doesn't turn out too thrift store mess.

This is JW Anderson and it's just divine. The colours surprised me as they seemed to range from good-enough-to-eat oranges and purples to dusky colours that looked washed in delicately. The pleats in the skirt gave it a stylised look rather than looking jumbled and the arrangement of everything was the key to it's success. AND THOSE BOOTS! They look as though they've been dusted with snowflakes or some kind of magic dust that grants people wishes. And the fringing on the others was something to die for. The metal, pagan looking circles reminiscent of dreamcatchers, and the sweeping chiffon all contributed to quite a witchy vibe but updated for summer as the sheer maxi's in-which is something i'll be making and trailing around in with the summer blossom skimming the edge. The witchy vibe is something i've been channeling in winter with layers of wool, chiffon, lace and velvet and i think it's something that can be well translated to summer with less layers and lighter ones. These colours really work layered on top of one another as each one shines through the fabric. Stunning.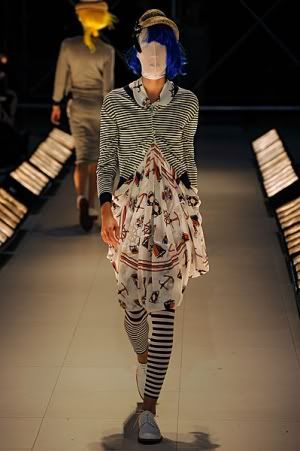 This is wonderfully nautical junya watanabe who is one of my favourite designers anyway but with the relaxed stripes and the layered feel it's definitely something i'll be using ebay and charity shops to attempt to replicate. The stripes are used in different directions which creates a great sense of pattern and stops them becoming repetitive. I could go on about how much i love this but they speak for themselves. This woman is quite high society i image as though she fools everybody of how nice she is when actually she enjoys a shot of tequila and singing irish folk songs when the yaught parties get boring and she sails off in a pea green boat.
Kenzo's possibly my favourite. Layering is always hard to do in summer as it can quickly become hot if you employ the wrong fabric on top of another however they seemed to do it whilst making the pieces look fresh, light and a breeze to wear which could, of course, be part of the whole illusion of how the fabric is cut and put together as, after all, this is the genius of a designer. The patterns reminded me of the lawns of doll houses and how quaint a stately home's tapestry's may look like. The hint at a silk bralette under it all was perfect to tie it all together and there's the naughty streak to employ and exploit in it all, after all it's always the innocent ones.
It all looks so easy and soft and delightful to wear and i'm made up that there's somebody who created something that means i can be inspired and wear my favourite floral jumpsuit which is divinely soft and loose enough to layer.
So as you can see i'm excited about summer fashion but i don't want snow, presents, family times and real coal fires to end just yet so i'll be inspired subtly by these and employ perhaps an ahead-of-the-time winter version.