Is the title I'd give to one of the trends next summer. I can't wait to be dressed up in pleats, peter pan collars, pop socks and chunky school-look shoes. With designers such as Jil Sanders, Marc Jacobs and Band of Outsiders we got inspirations ranging from Austrian cinema to simply an amalgumation of women from the flappers of the 1920's to the housewives of the 1950's. This is a girly season. Some designers seem to still have small hints of the masculine side to autumn/winter11 but over all it looks like this spring will be as girly as the blossom on the trees. Images spring to mind, (pardon the pun), of girls dancing around maypoles and sitting, reading under trees. Ankles on show in sheer socks with blouses, pleated skirts and simple palettes: be excited ladies because it's time we harked back to the genius of the uniforms we've thought nothing of all of our lives. At Jil Sander Navy we saw Prada style chunky shoes with a creeper wedge at the bottom. These beauties paired with sheer ankle socks in navy and nude gave us the impression of bambi-esque school children tottering around the playground as their styles are still developing.
There's something very country about this look and, as much as I love the town and the look is still accessible to us city dwellers, one imagines leaping around in green pastures in these delicate looks. With straw boaters there's nods to the idea of wealthy gardens likened to those in 'The Great Gatsby' and the floating fabrics remind me of isabella duncan waving at the side of the races. Dainty, dandy and perfectly feminine. Summer is here.
Band of outsiders inspiration from Austrian feature film 'Picnic at Hanging Rock'.
Band of outsiders.
Jil Sander Navy.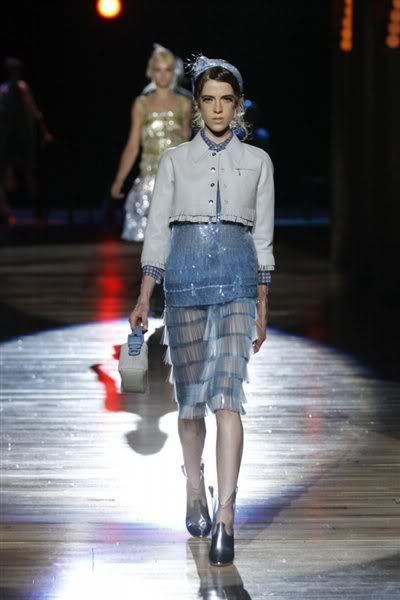 Marc Jacobs.