Once again the punk side of me will come out to play this spring as-surprise, surprise-the dripping-in-leather biker look is back. However, as predictable as it was, it's really surprised me and some of my favourite quirky micro trends of a/w have been injected in when nobody was looking.
Christopher Bailey has once again made me swoon with his wicked ways with fabric, tailoring and celebration of the female form and power. His leather clad girls really stole my interest and here's why: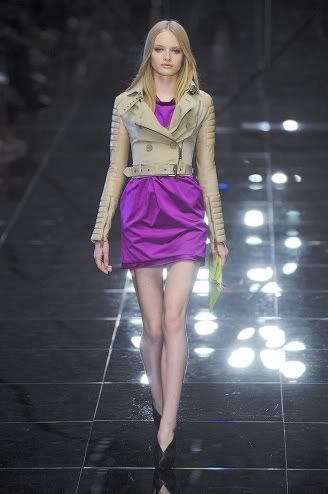 it seems that miu miu's innovative and nostalgic use of bertie basset liquorice colours, (even then a dark take on s/s10's candy floss pastel pallet), have been transformed into small adornments in this series of stunning pieces. Whether it be gaudy colour combinations of yellow and green or the small mint green belts, (again translated from winter's skinny belt), Bailey has succeeded in, yet again, tantalising our fashion taste buds.
I'm more than happy that leopard print has also been carried on as i'm not quite prepared to stop donning my mad men inspired faux fur jacket in leopard print. I love how from season to season something that is theoretically exactly the same, (a print, a cut, a fabric etc), gets transformed into something new without a completely different meaning and feeling in the wearer. I particular like the idea of walking holding the shoes-this seems to speak to me a lot as a girl who doesn't often wear heels i'm rather inspired by the strength of a woman who's willing to admit maybe it's not all about the heel and perhaps this is also a clever pun about the comfort of monsieur Bailey's clothing.
I'd love to pretend it's something from this collection that i'll be saving up for but i think even if i saved for months i would not be able to afford a statement piece. Perhaps a pair of tights if i'm lucky?