So, as all us budding fashion geeks know, Chanel is the epitome of class, glamour and elegance. For years the hardworking people at Coco's infamous brand have churned out collection after collection of stunning garments that have graced the most burgois and beautiful of people from Paris to New York in chic and classic clothing.
However this season Karl fancied a change. An image springs to mind of him sitting in his leather empire frowning behind his dark sunglasses twisted and untwisting the handle of a 2.55 wondering what his next collection should say. Tough sex. That's what I, personally, took from the collection as i was desperate to join in and certainly was seduced by the way in which the classic ruffle was put next to grungy folds flecks of leather and padded black. The collection is for a different kind of woman. Looking at the shaped and chic of the past collections one wonders why the change? Is a new woman on the horizon? Are we finally letting go of the stereotype we can't help but shed that the idea of beauty is donned in a long lake of hair and a petite dress made of flowers, ruffles and all things nice?
I've always had the same impression from Chanel. I've fallen in love with collection after collection but always felt my boyish crop and grungy side wouldn't take well when wearing the beautiful slopes of decadent fabric and the cutesy side to the innocence of the looks. However this has changed my mind. Even if i had the money,(which, alas, i do not), to buy Chanel i felt i would have to combine in with tougher elements making the garments more me but this collection is powerful, gritty and snarls at the aristocratic undertones of previous collections. Stare in awe as your idea of Karl's frilly, fancy ladies is transformed into something with a double dose of sex appeal.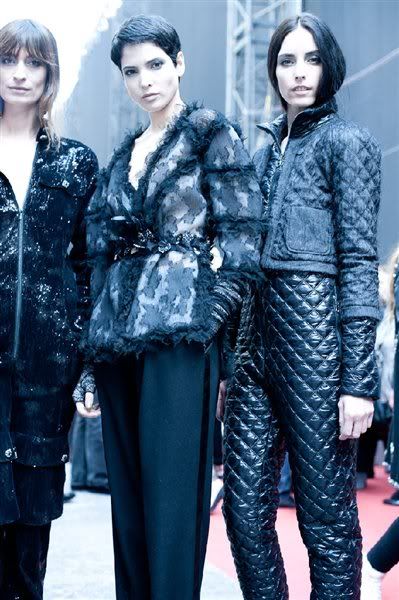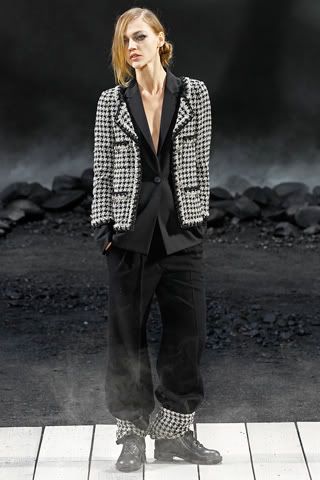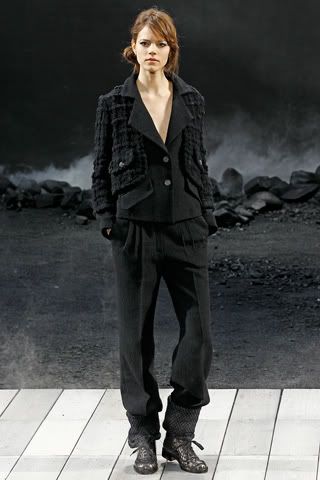 Who better to pioneer this new vamped up biker chic than Freja?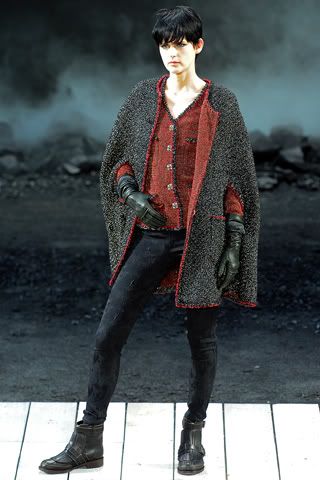 Did i mention i can't wait for winter again?