I haven't done this for a really long time. Especially for someone who has misplaced teenage fantasies of one day actually
achieving
what i want to do and becoming a fashion journalist. I should probably learn to capitalise my 'I''s in the middle of sentences before i even begin to think this is plausible. College. Stress. Parents. Holidays etc and all the other excuses a desperately
introspective
teenage girl will use to convince herself that she's only taking a break from journal writing, creative writing and blog posts.
Well
I'm
here to correct myself and prove myself and everybody else wrong.
I love fashion week. Duh. Who doesn't. When the first shoe steps out on the catwalk i want one day for it to be MY
embarrassing
audible
gasp that the magazines laugh at in reports. I'm humungously excited to be wearing what the designers have forseen and prescribed. A healthy dose of clashing patterns, outrageous tailoring and beautiful fabrics ahoy.
Here are some of my favourites: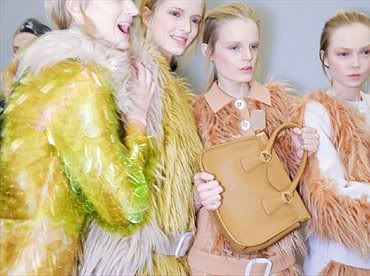 Prada
alberta ferretti
alberta ferretti
alberta ferretti
alberta ferretti
mary karantzou
creatures of the wind
burberry
burberry
simone rocha
simone rocha
prada